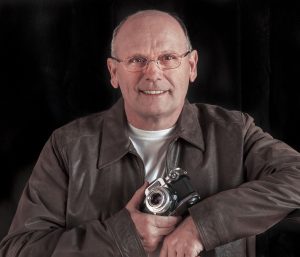 Carlos Gulisano
A geologist by profession, Carlos Gulisano took up analogical photography at the end of the 1960s. He uses photography in his profession as a support tool for geological field work, and this led him to develop a particular interest in landscape photography.
In 2004 he entered the world of digital photography, concentrating on rural and urban landscapes, documenting journeys and, more recently, night photography, in which he combines landscapes with starry skies.
In August 2012 he began to study Photography, Digital Developing, Editing and Printing under photographer and curator Juan Brath, at the Escuela de Fotografía and printing workshop FOTEMA –Arte Fotográfico-, studies he continues to pursue.
Towards the end of 2012 he began to participate in national and international photography competitions and salons, in which over two hundred of his works have received distinctions.
Since 2014 he has exhibited on various occasions in Buenos Aires, Villa la Angostura (Neuquén) and Salta, both in individual and collective exhibitions, in all cases under the curatorship of Juan Brath.
Since December 2014 he has exhibited his works uninterruptedly in Alma Mora –Café & Restó– in Villa la Angostura. Exhibitions have included different groups of landscape photographs from the south of Argentina ("Paisajes sureños" and "Paisajes sureños II"), photographs of Tuscany ("Otras tierras"), urban landscapes in different cities of Europe and USA under the title of "Ciudades" ("Cities") and, currently, a selection of landscapes from the Andean region with works from the first two exhibitions.
In March 2015, together with Gustavo Zinn and Ricardo Rivera, he exhibited works in the collective exhibition "Gente común……y no tanto" ("Everyday people…and others") held at the Nuevo Foto Club Argentino in Buenos Aires.
From 13 to 18 August 2015 he exhibited a group of 16 works, in the Feria Arte Espacio 2015, held at the Hippodrome in San Isidro, Buenos Aires. They included landscapes, urban themes and diptychs.
Between December 2015 and March 2016 he held an exhibition called "Nepal: Fotografías de su gente, sus valles y sus senderos de montaña" ("Nepal: Photographs of its people, its valleys and its mountain paths"), comprising 58 photographs at the Centro Cultural Borges in Buenos Aires.
Between December 2016 and January 2017, along with Juan Brath, Norberto Martino, Ricardo Rivera and Gustavo Zinn, he participated in the collective exhibition "Naturaleza en blanco y negro" ("Nature in black and white") contributing a group of eleven photographs on the theme of landscapes from the south of Argentina.
In August 2018, he exhibited at the Museo de Arte Contemporáneo de Salta (MAC Salta) a set of works titled "Espacios públicos" ("Public spaces"), a project selected in the 20th edition of the Encuentros Abiertos at the Festival de la Luz.
In September 2019 at Buenos Aires Photo (BAPhoto 2019), held at La Rural de Palermo (Buenos Aires), he exhibited a collection of landscapes from Iceland.
In his work he uses full frame and medium format digital equipment and prints his photographs on a printer with pigmented inks and Fine Art quality paper.